Infina Towers Aurora Boulevard Cubao Quezon City
Infina Towers is DMCI Homes upcoming high rise condominium project launched on December 2016. The first tower, North Tower, will feature 1 Bedroom, 2 Bedroom , 3 Bedroom units. Â  The turnover date for North Tower is on September 2021.
Infina Towers Details
Infina Towers will be put up on a total land area of 12,701 sqm with a large portion of the area to be dedicated to open area amenities. Â Similar to existing DMCI Homes' projects, expect a resort like experience within the compound.
Land Area
12,701 sqm
Location
Aurora Boulevard Cubao
Number of Buildings
2 Buildings
Unit Types
1BR – 24-31.5sqm (59%)
2BR, 3BR – 41.5 -73sqm (41%)
Number of Floors
40 levels
Number of Units
2,843 total units
Number Parking
1,774 parking slots
Parking Ratio
58% parking ratio
Turnover Date
 December 2022 (North Tower)
Infina Towers Prospective Owners
Investors – Looking for potential rental income – Individuals who want to lay their money into an investment that will have appreciated value
End-users and Upgraders – Living in the neighboring communities – Living with families and relatives who want to have a place of their own
Demographics:
25 – 40 years old
Residents from different parts of Metro Manila, with majority coming from different parts of Quezon City, Manila, San Juan, and Mandaluyong
Php50,000 and above monthly income
Why you should consider Infina Towers
Superb Location
Very accessible
Schools and universities in the vicinity
Near to workplaces
Everything you need are within your reach
Relaxing Amenities
Soothing outdoor swimming pools
Amenities for active lifestyle
Greens and landscapes for peaceful mind
Lounge areas as venue for bonding with friends
Sceneries for enjoyment
Unobstructed views of the mountains of Antipolo
Be greeted with the sun rising in the east
Experience spectacle of city lights
DMCI Homes signature
Natural air and light inside buildings
Less electrical consumption
More breathing space that veers away from sick building syndrome
Value for Money
Bearing the DMCI Homes Quality Seal
Price per square meter cost is lower than competitors
Comes with a 2-year limited warranty which others can't offer
70% of the property is dedicated to open spaces
A product of DMCI Homes – one of the leading and trusted real estate companies in the Philippines
Infina Towers Location
The property is conveniently located along Aurora Boulevard, Cubao Quezon City at the Halili Complex just beside National College of Business and Arts (NCBA). Â It is very accessible public transport and very near LRT 2 Anonas Station.
Proximity to nearby schools like Ateneo de Manila, Miriam College and University of the Philippines Diliman makes this project a very worthwhile investment. Â Coming from Aurora Boulevard towards C5, you also have easy access to Katipunan heading to Eastwood City.
Via EDSA (From Makati)
Turn right on P. Tuazon Blvd.
Turn left on 20

th

Ave.
Turn right on Aurora Blvd.
Via C5 (From Makati)
Take U-turn on Katipunan flyover
Turn right on P. Tuazon Blvd.
Turn right on Lakandula St.
Make a left on A. Luna St.
Turn right on F. Castillo St.
Turn right on Aurora Blvd.
From Manila
Take East Bound of Ramon Magsaysay Blvd. / Aurora Blvd. Infina Towers is on the right side after F. Castillo St.
Infina Towers in Google Maps
Nearby Establishments
Below is a map showing the vicinity of Infina Towers. Â As you can see, the project has easy access to public transport.
Central Business Districts
Araneta Center 2.6 km
Eastwood, Libis 3.9 km
UP-Ayala Technohub 5.7 km
Ortigas Center 7.2 km
Malls & Supermarkets
Gateway Mall 1.7 km
Riverbank Mall 2.3 km
Eastwood Mall 5.6 km
Hi-top Supermart 200 m
Super Metro Gaisano 300 m
Aurora Market 350 m
Schools
University of the Philippines Diliman 4.7 km
Ateneo de Manila University 2.0 km
Miriam College 2.4 km
National College of Business and Arts 50 m
Philippine School of Business Administration 550 m
St. Bridget High School 700 m
Asian College Quezon City 150 m
Technological Institute of the Philippines 900 m
Hospitals
World Citi Medical Center 500 m
Quirino Memorial Medical Center 1.2 km
St. Lukes Medical Center 5.6 km
Terminals and Stations
LRT 2 (Anonas Station) 250 m
MRT (Cubao Station) 4.4 km
Araneta Center Bus Terminal 2.5 km
Churches
Jesus Christ of the Latter-day Saints 250 m
Faith Fellowship Ministry Center 250 m
Archdiocesan Shrine of St. Joseph 300 m
Capitol City Foursquare Church 200 m
Site Development Plan
Infina Towers will feature two buildings, North Tower and South Tower.
North Tower – Turnover Date September 2021
South Tower – Turnover Date September 2022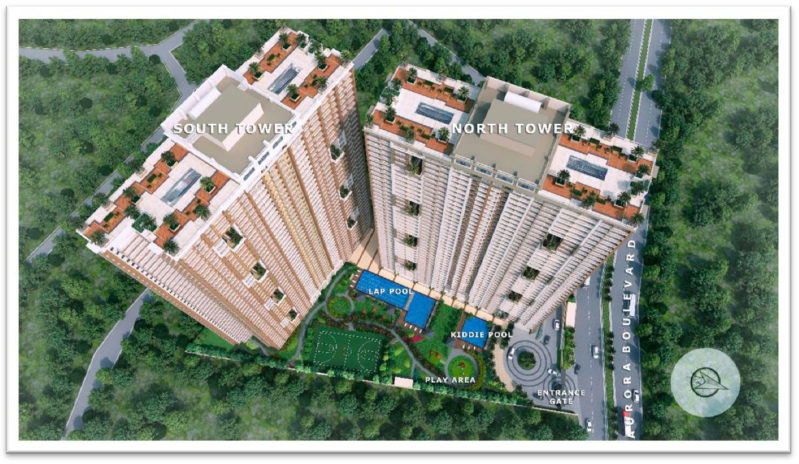 Unit Floor Plans
North Tower will have 40 floors.  Every 5 levels would have a Garden Atrium.  Ten (10) high speed elevators will serve the building.
Unit Types, Prices and Computations
For Infina North Tower, we have the following unit types and corresponding price ranges. Â The 1 bedroom units are perfect for rental investment at very affordable prices. Â The 2 bedroom and 3 bedroom units are great for small to medium sized families.
Units Layouts
Infina Towers will feature 1 Bedroom, 2 Bedroom and 3 Bedroom Units. Â Kindly check out the layouts of the units below.
1 Bedroom A
Our 1 Bedroom type A is our smallest unit for Infina Towers. Â The prices of units vary depending on the view and floor. Â This applies to other 1 bedroom units as well.
2 Bedroom A
2 Bedroom B
3 Bedroom End Unit
Infina Turnover Finishes
Below is the list of Turnover Finishes that will be delivered with unit for Infina Towers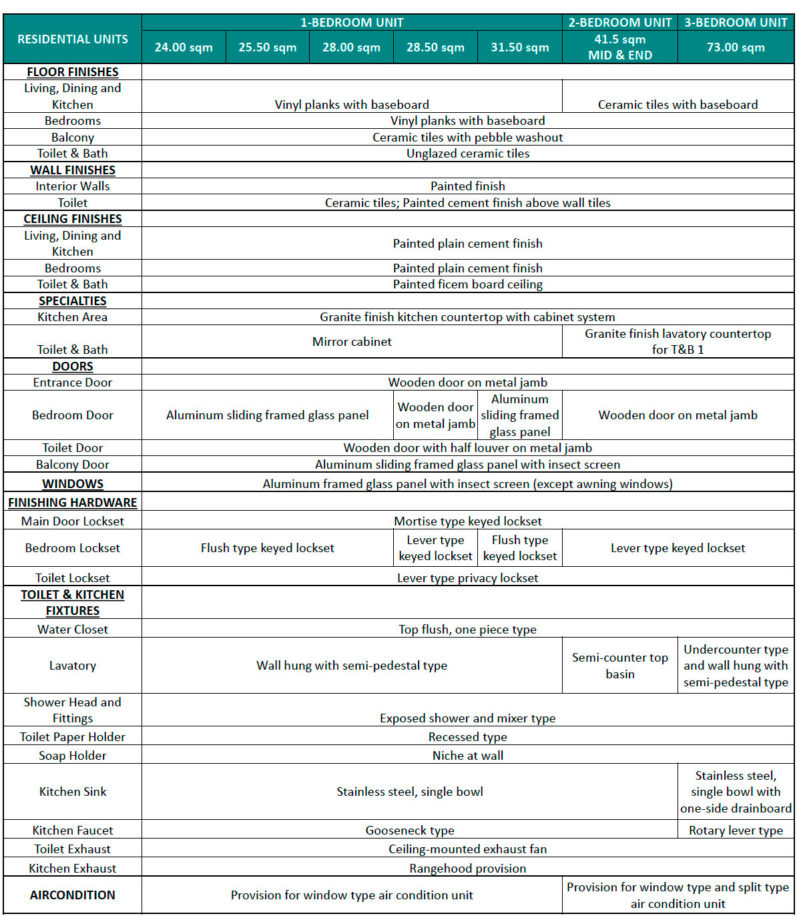 Development Features
UNIT
Unit balconies
Individual metered utility
Provisions for telephone, cable and internet connections for each unit
GENERAL / COMMON AREAS
Lumiventt
Landscaped garden atriums
Single loaded hallway
Ten (10) hi-speed elevators
Mail area
Full back up power for all units and common areas
Electrified perimeter fence
Provision for CCTV in strategic locations of common areas
Fire Detection, Alarm and Suppression System (Heat, smoke detectors and sprinklers)
Infina Towers Amenities
Infina Towers will feature resort-type amenities that will be enjoyed by you and your family.   We start off with the pool complex.  The Kiddie Pool  is meant for children and has easy step in access towards the shallow water.  We also have the lap pool for swimming and exercise and lounge pool for a relaxing dip.
INDOOR AMENITIES
Lounge Areas
Snack Bar
Game Area
Fitness Gym
Audio Visual Room
Sky Lounge
Function Room
Extended Sky Patios
OUTDOOR AMENITIES
Lap Pool Kiddie
Pool Lounge Pool
Gazebo
Picnic Area/ Open Lawn
Play Area
Basketball
Court Roof Garden
COMMERCIAL AREA (C/O DEVELOPER)
Convenience Store
Water Station
Laundry Station
Reservation and Requirements
To reserve a unit in Infina Towers, you would only need the following:
Client Registration Form
Reservation Agreement Form
Copy of any Valid ID
Reservation Fee Php 20,000 for a unit and/or Php 10,000 for parking
After reservation, other requirements we would need are the following:
Valid IDs with clear photo and signature
Proof of Billing Address (This should match your preferred billing address indicated in the Reservation Agreement Form). Â If you don't have your own proof of billing, you can make use of someone else's with authorization form
Signed Comptation Sheet
Marriage Certificate
TIN number – if not available, we can get new ones for you
After submission of requirements, your contracts for your Infina Towers Unit and/or Parking Slot shall then be drafted which usually takes a week to be released.
For the down payments for Infina Towers, we have 3 modes of payments (3 options):
Philippine Post Dated Checks (PDCs) for the down payments – If not available, you can make use of a friend's or relative's checks with authorisation letter
Auto Debit Arrangement (ADA) from accredited banks
Bills Payment Option through accredited Remittance Centers
The remaining balance can either be financed through Bank Financing or In-house Financing. Â Below is the list of accredited banks that you can make use of:
Asia United Bank
Bank of Commerce
BDO
BPI
Chinabank
China Bank Savings
Eastwest Bank
HSBC
Maybank
Metrobank
Planter's Bank
RCBC Savings Bank
Philippine Business Bank
PNB
PSBank
Robinson's Bank
Security Bank
Union Bank
We assist in your application for Bank Financing which is initiated within 6 months from turnover of your unit.
DMCI Homes Quality Seal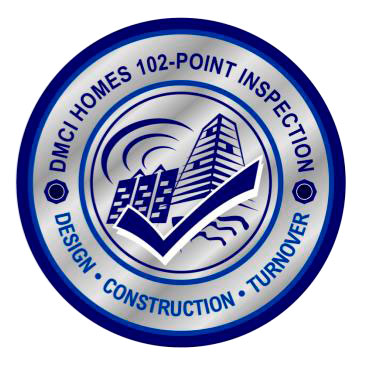 Infina Towers bears the DMCI Homes Quality Seal, which represents our commitment to deliver homes that are built to last. Your new home is subject to our proprietary quality management system, and comes with a 2-year limited warranty*.
*Property developers typically provide a one-year warranty. DMCI Homes' 2-year limited warranty covers most unit deliverables, except operable items subject to daily wear and tear.
Terms and conditions apply.
Contact Form Shortcode Error: Form 1 does not exist