The Celandine Condominium by DMCI Homes
The Celandine by DMCI Homes is a high rise condominium located along A. Bonifacio in Quezon City.

| | |
| --- | --- |
| Size of Development | 0.86 Hectare |
| Location | A. Bonifacio Avenue, Balintawak, Quezon City |
| Number of Building | 1 |
| Number of Floors | 45 Residential Floors 2 Amenity Floors (GF & RD) 4 Basement Levels |
| Total # of Units | 1,566 |
| Units Mix | 1-BR and 2-BR Units |
| Parking Slots | 841 |
| Parking Ratio | 54% |
| Turnover Date | October 2021 |
The Celandine Architectural Concept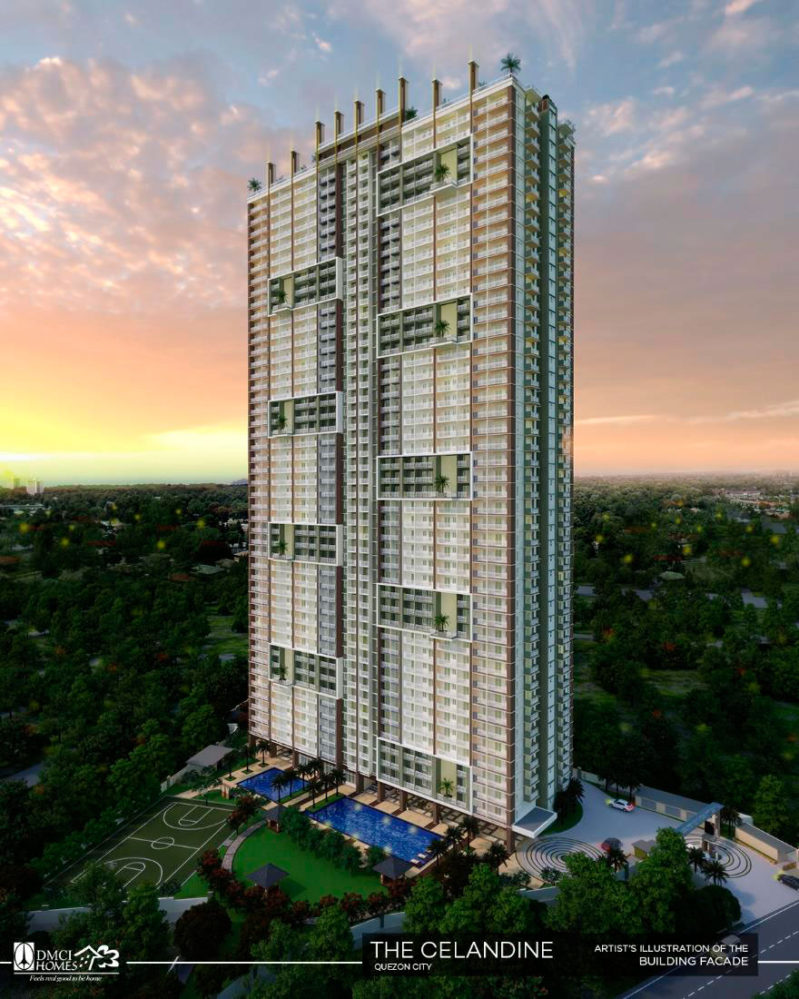 MODERN-CONTEMPORARY ARCHITECTURE Along with the advent of technology during the early 20th century, a new style in design and architecture took place. Characterized mainly by simple geometry and right-angled lines, modern contemporary architecture deviates from excessive ornamentation of the past styles. Mostly utilitarian in nature, modern architecture's dictum is "form follows function" (Louis Sullivan) –a principle on which the building's shape should be primarily based on its intended function or purpose.
ARCHITECTURE OF CELANDINE
The building's design elements and materials are manifested in the sleek architectural lines, textures and composition. Aside from enhancing the building aesthetically, atria and sky patio also improves natural lighting and ventilation inside the building. Well-placed opening allow natural air to circulate inside the building preventing hot air to stay within. Sky patios and atria also act as amenity areas at higher floors, thus creating spaces where residents can interact with one another while enjoying the view outside. Light-colored rectangular frames at sky patio dissected by the earth-toned vertical columns balances the façade, forming the building's sense of character and integrity in its architectural design concept.
The Celandine Location Map
EDSA (FROM MAKATI)
Take EDSA heading Northbound
Stay on the right side as you approach Cloverleaf interchange
Turn rightto Cloverleaf Interchange via 'To Manila' ramp
Exit towards A. Bonifacio Avenue
The property is on the right side
Proximity
350 meters away from future Ayala Mall development
420 meters away from EDSA
Medical Institutions
Quezon City General Hospital-2.7 km
Chinese General Hospital-3.5 km
United Doctors Medical Center-4.4 km
Veterans Hospital-4.4 km
Phil. Children's Medical Center-5.3 km
Capital Medical Center-5.8 km
UST Hospital-5 km
Church
St. Joseph the Worker Parish-1.7 km
National Shrine of our Lady Parish-1.3 km
Grace Christian Church-3.1 km
Transport Terminals
Balintawak Bus Terminal-1.8 km
Baliwag Transit Bus Terminal-2.8 km
LRT MonumentoStation-3.8 km
MRT BalintawakStation-1.5 km
Trinoma Public Transport Terminal-5km
Business Centers
Cloverleaf-300 meters
Vertis North-4 km
OrtigasCBD-11 km
Makati CBD-17 km
Malls / Commercial Establishments
Puregold-500 meters
WaltermartMuñoz-2.5 km
SM North EDSA-3.4 km
Trinoma-3.7 km
Landers Superstore-2km
Fisher Mall-5.5 km
UP-Ayala Technohub-7.3 km
Schools
Our Lady of Grace Academy-830 meters
Notre Dame of Greater Manila-950 meters
St. Mary's Caloocan-950 meters
Grace Christian College-1.6 km
Lourdes School of Quezon City-3.1 km
University of the East Caloocan-3.3 km
St. Jude College-4.5 km
AngelicumSchool-5 km
UP Diliman-8 km
Site Development Plan
Unit Types
1 Bedroom A
1 Bedroom B
1 Bedroom C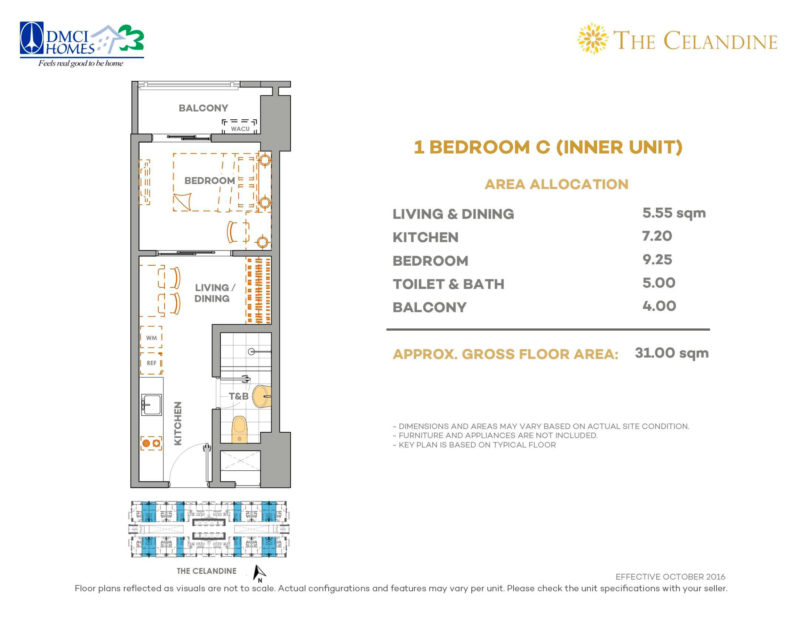 1 Bedroom D
2 Bedroom A
2 Bedroom B
2 Bedroom C
3 Bedroom Tandem Unit
Amenities and Facilities
Indoor Amenities and Outdoor Amenities
Lounge Areas
Lap Pool
Snack Bar
Lobby Area
Kiddie Pool
Game Area
Gazebo
Fitness Gym
Picnic Area / Open Lawn
AudioVisual Room
Play Area
SkyLounge
Linear Park and themed gardens
Function Room
Jogging Trail
Extended Sky Patios
Roof Garden
Basketball Court
Commercial Areas (c/o Developer)
ConvenienceStore
Laundry Station
WaterStation
Building Features
UNIT FEATURES
Unit Balconies
Individually metered utility
Provisions for telephone, cable and internet connections for each unit
GENERAL / COMMON AREAS
Sky Patio
Single-Loaded Hallway
Landscaped Garden Atriums
Ten (10) Hi-Speed Elevators
Electrified perimeter fence
Mail area
Full back-up power for all units and common areas
Provision for CCTV in strategic locations of common areas
Fire Detection, Alarm and Suppression System (Heat &smoke detectors, and sprinklers)
PMO Services
24-hour security, with roving personnel
Guarded entrance gate
General maintenance of common areas
Taxi call-in service
Reservation and Requirements
To reserve a unit in The Celandine, you would only need the following:
Client Registration Form
Reservation Agreement Form
Copy of any Valid ID
Reservation Fee Php 20,000 for a unit and/or Php 10,000 for parking
After reservation, other requirements we would need are the following:
Valid IDs with clear photo and signature
Proof of Billing Address (This should match your preferred billing address indicated in the Reservation Agreement Form). If you don't have your own proof of billing, you can make use of someone else's with authorization form
Signed Computation Sheet
Marriage Certificate
TIN number – if not available, we can get new ones for you
After submission of requirements, your contracts for your Celandine Unit and/or Parking Slot shall then be drafted which usually takes a week to be released.
For the down payments for The Celandine, we have 3 modes of payments (3 options):
Philippine Post Dated Checks (PDCs) for the down payments – If not available, you can make use of a friend's or relative's checks with authorisation letter
Auto Debit Arrangement (ADA) from accredited banks
Bills Payment Option through accredited Remittance Centers
The remaining balance can either be financed through Bank Financing or In-house Financing. Below is the list of accredited banks that you can make use of:
Asia United Bank
Bank of Commerce
BDO
BPI
Chinabank
China Bank Savings
Eastwest Bank
HSBC
Maybank
Metrobank
Planter's Bank
RCBC Savings Bank
Philippine Business Bank
PNB
PSBank
Robinson's Bank
Security Bank
Union Bank
We assist in your application for Bank Financing which is initiated within 6 months from turnover of your unit.
The Celandine bears the DMCI Homes Quality Seal, which represents our commitment to deliver homes that are built to last. Your new home is subject to our proprietary quality management system, and comes with a 2-year limited warranty*. *Property developers typically provide a one-year warranty. DMCI Homes' 2-year limited warranty covers most unit deliverables, except operable items subject to daily wear and tear. Terms and conditions apply.
DISCLAIMER In its continuing desire to improve the project, DMCI Homes reserves the right to change product features, prices and terms without prior notice and approval. Floor plans and perspectives depicted in this material are for demonstration purposes only and should not be relied upon as final project plans.
Contact Form Shortcode Error: Form 1 does not exist