ZINNIA TOWERS EDSA QUEZON CITY
Introducing DMCI's latest project ZINNIA TOWERS near Munoz, EDSA, Quezon City. The project consists of 2 high rise buildings with unit mixes of Studios, 1 Bedrooms, 2 Bedrooms, 3 Bedrooms.
Zinnia Towers with LUMIVENTT TECHNOLOGY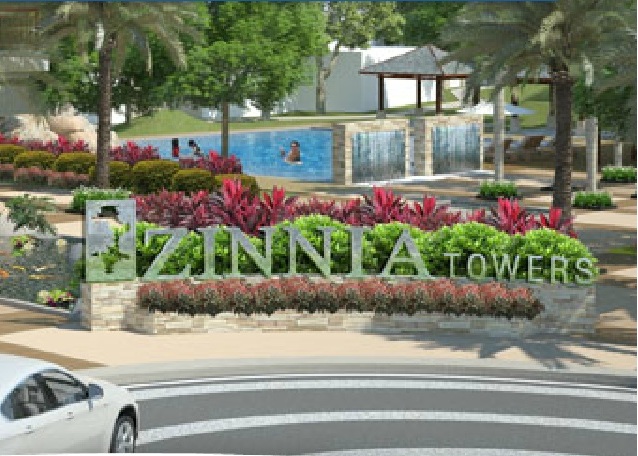 by DMCI Homes
North Tower RFO May 2016
South Tower RFO Dec 2017
RESERVATION FEE IS PHP 20,000.00
What A contemporary tropical-themed condominium village in North EDSA, QC
How that offers an upgrade on the essentials in community living through resort-inspired amenities and picturesque landscapes
Where where places of interest such as schools, shopping malls, and business centers are very accessible
Who for the young discerning families from Quezon City, CAMANAVA, and North Luzon provinces
Why who desire to dwell in an exclusive, serene, andsecured sanctuary
When in a time of limited living options in the city
Perfect for Young family upgraders and end users who are decision makers, between 30 to40 years of age from nearby areas in Quezon City up to CAMANAVA; They may come from middle to top management positions in reputable companies in the Quezon City area.
These are couples who are looking for an ideal home in the North EDSA Quezon City area, where they grew up and are familiarized. They are also
aspiring for a place that is accessible near malls, workplaces, and schools sothey can still spend quality time with their family;
They aspire to live in an environment that's conducive to child rearing, where space and natural light are available so they can feel the warmth of nature right in their own home.
They want a place where exclusivity and security are given priority, to enjoy worry-free living within the community.
Perfect for families currently living in the north Luzon (i.e., Bulacan, Pampanga, Pangsinan) provinces but looking for a residential place in Metro Manila/Quezon City as half way home for their future use (children for school, work, etc.) that's very accessible to their hometown.
LOCATION MAP
How to get there:
1. From Makati:
Take EDSA Northbound, heading towards Quezon City.
Upon reaching the LRT Roosevelt Station, take leftmost lane to prepare making a U-turn to go to the Southbound side of EDSA.
After that U-turn, take rightmost lane, Zinnia Towers will be on your right.
2. From Quezon City:
From Quezon City Circle, take North Avenue towards EDSA Balintawak.
Upon reaching the LRT Roosevelt Station, take leftmost lane to prepare making a U-turn to go to the Southbound side of EDSA.
After that U-turn, take rightmost lane, Zinnia Towers will be on your right.
 
a. Accessibility to places of interest
Zinnia Towers is along EDSA, where shopping malls, business establishments, learning institutions, and hospitals are just within 3-5 kms away. Big malls and decent grocery stores are just a short drive away from the project site such as Waltermart Muñoz, S&R Membership
Shopping, SM North EDSA, and Trinoma.
b. Travelling Convenience
One can travel anywhere, even to the south area, in just a few minutes as LRT line 1 North Extension and MRT3 are just a few meters away from Zinnia Towers. Public utility vehicles are also available along EDSA.
c. Quiet side of the main road
Access to Zinnita Towers is via 130 meters right of way from EDSA.  Hence, the property is located at a more quiet and peaceful area, tucked away from the disturbances of the lively and active activities along EDSA.
DISTANCE TO KEY AREAS
Schools
PWU-JASMS – 2.50 km 3-5 mins
World Citi Colleges – 2.70 km – 10 mins
Phil. Science Highschool – 2.80 km – 3-5 mins
Notre Dame of Greater Manila – 3.10 km – 20-30 mins
Our Lady of Grace Academy – 3.10 km – 20-30 mins
Manila Central University – 3.20 km – 20-30 mins
Grace Christian Highschool – 3.20 km – 20-30 mins
Sienna College – 3.50 km – 20-30 mins
Lourdes School of Q.C. – 5.60 km – 20-30 mins
UP Diliman – 5.90 km – 20-30 mins
St. Theresa's College – 6.00 km – 20-30 mins
Miriam College – 8.00 km – 20-30 mins
Ateneo De Manila Univ. – 8.60 km – 35 mins–1 hr
Business and Commercial Establishment
S&R Price Shopping (Congressional) – 517 meters – 3 mins
Waltermart Munoz – 585 meters – 1 min
SM North EDSA – 1.60 km – 2 mins
Trinoma – 1.93 km – 2 mins
ABS-CBN – 2.83 kms – 5 mins
Eton Centris – 2.93 km – 5 mins
GMA 7 – 3.75 km – 12-15 mins
UP Ayala TechnoPark – 4.28 km -20-30 mins
Hospitals
Quezon City General Hospital – 676 meters – 3 mins
Veterans Memorial  Medical Center – 2.52 km – 5 mins
Philippine Kidney Dialysis Center – 3.24 km – 20 mins
Lung Center of the Philippines – 3.34 km – 20 mins
East Avenue Medical Center – 3.72 km – 12-15 mins
Philippine Heart Center  – 3.76 km – 12-15 mins
V. Luna Hospital – 4.56 km – 25 mins
Resort-inspired amenities and landscaping
As testified by other DMCI Homes developments in Metro Manila, Zinnia Towers will feature a diverse mix of resort-inspired amenities such as a swimming pool complex, several play areas, garden trails/parks, podium amenities and roof deck gardens, and wonderfully designed Clubhouse with its facilities that will surely help the residents to rejuvenate and take the time to relax after a tiring day at work. It's like going on a vacation every time you come home.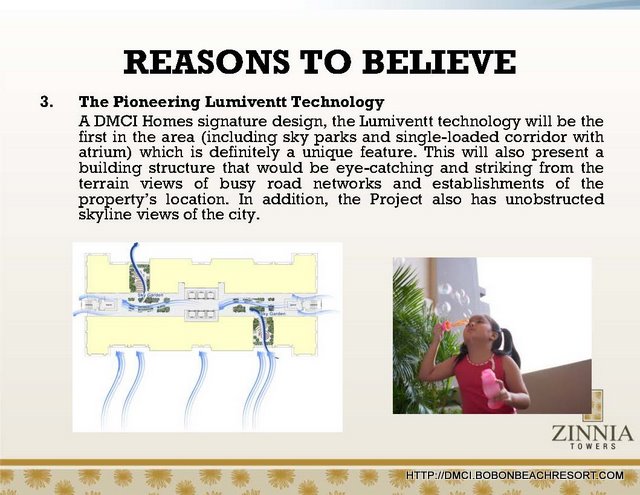 The Pioneering Lumiventt Technology
A DMCI Homes signature design, the Lumiventt technology will be the first in the area (including sky parks and single-loaded corridor with atrium) which is definitely a unique feature. This will also present a building structure that would be eye-catching and striking from the terrain views of busy road networks and establishments of the property's location. In addition, Zinnia Towers also has unobstructed skyline views of the city.
Worry-free Living
Residents do not have to worry every time they leave their homes because they know that they are secured and safe with 24-hrs roving security care of the Property Management Office and an electrified perimeter fence surrounding the entire development. Moreover, there will be CCTV cameras placed in strategic locations to monitor the safety of every resident, and emergency back-up power supply during brownouts.
Site Development Plan
Land Area : 19,493 sqm. Amenity Area : 13,310 sqm.
Total Saleable Area : 43,575 sqm. No. of building : Two (2) HRB
Unit Saleable Area Ratio : 3.86 No of units : approx. 1,652
Density (units/ha) : 847
TYPICAL GARDEN ATRIUM FLOOR LEVEL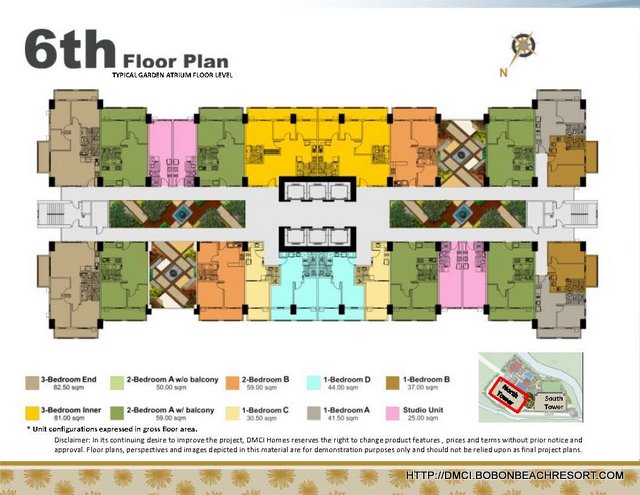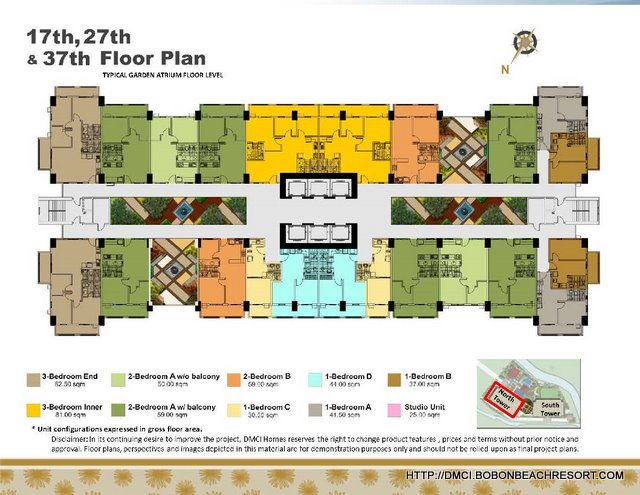 * Unit configurations expressed in gross floor area.
Disclaimer: In its continuing desire to improve the project, DMCI Homes reserves the right to change product features , prices and terms without prior notice and
approval. Floor plans, perspectives and images depicted in this material are for demonstration purposes only and should not be relied upon as final project plans.
UNIT LAYOUTS and COMPUTATIONS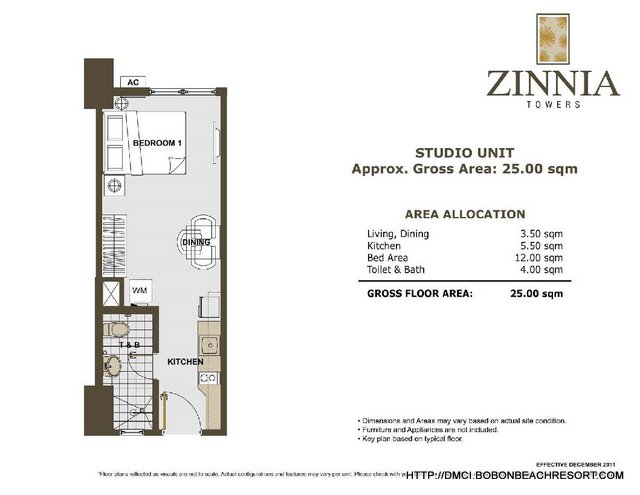 Studio Unit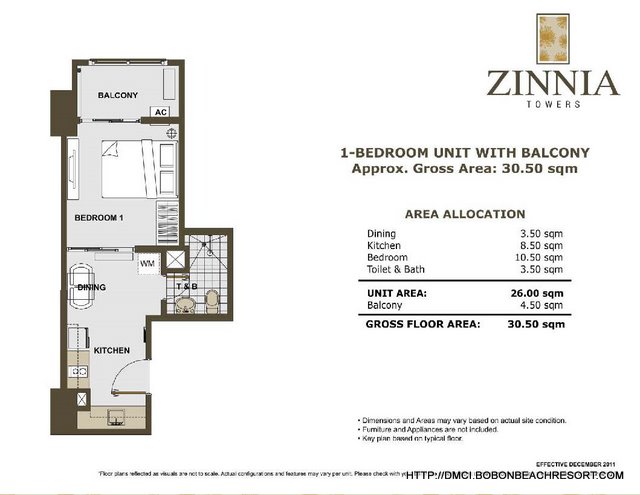 1-Bedroom Unit with Balcony Type C

1-Bedroom Unit with Balcony Type B

1-Bedroom Unit with Balcony Type A

1-Bedroom Unit with Balcony Type D

2-Bedroom Unit with Balcony B

2-Bedroom Unit with Balcony A
2-Bedroom Unit no Balcony 50 sqm
For 2 Bedroom Units not facing amenities and are not at Atrium Levels, Price is at PHP 3.264M
For 2 Bedroom Units Facing amenities and are at Atrium Levels, Price is at PHP 3.388M
3-Bedroom Unit with Balcony

TURNOVER FINISHES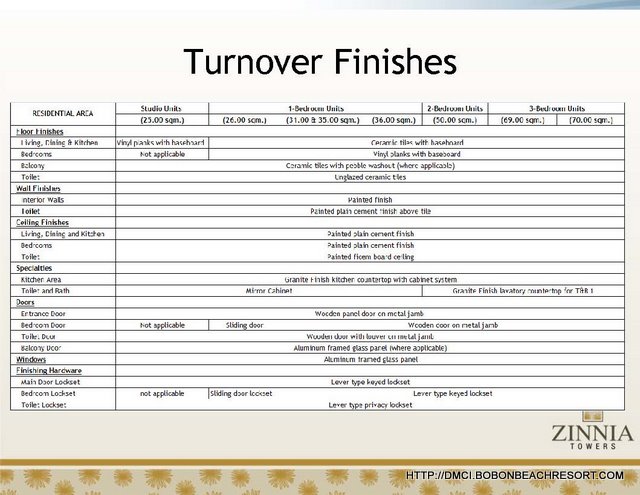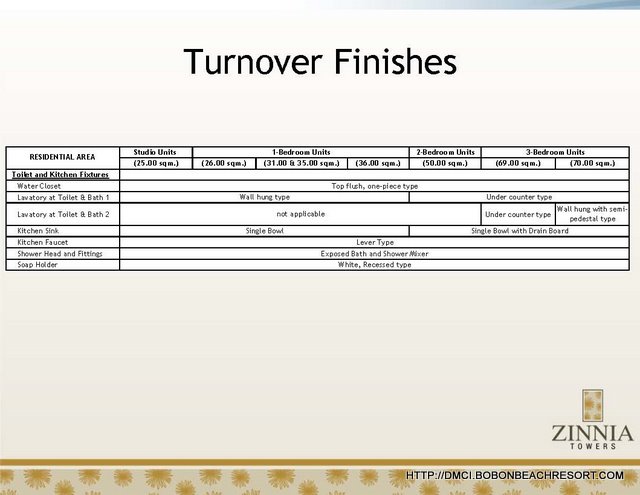 BUILDING FEATURES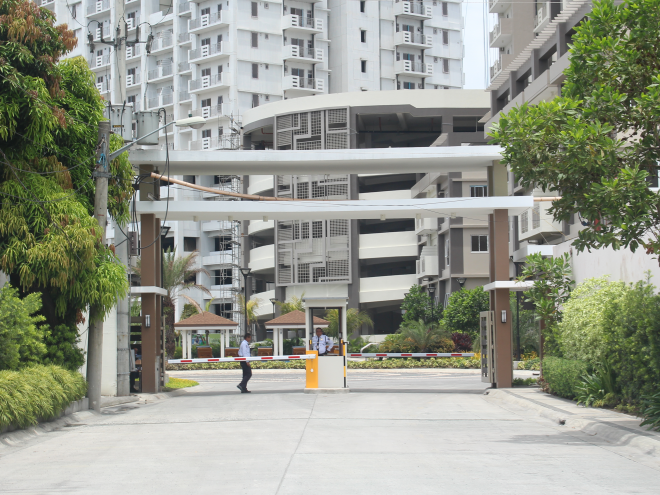 Gated Entrance
Lumiventt Technology
Lobby, Garden Atrium, Podium Garden and Sky Patio
OUTDOOR AMENITIES
Gazebos/Cabanas, Barbeque Pit, Jogging Path and Picnic Grove
Swimming Pool, Grand Clubhouse, Palm Promenade and Koi Pond
INDOOR AMENITIES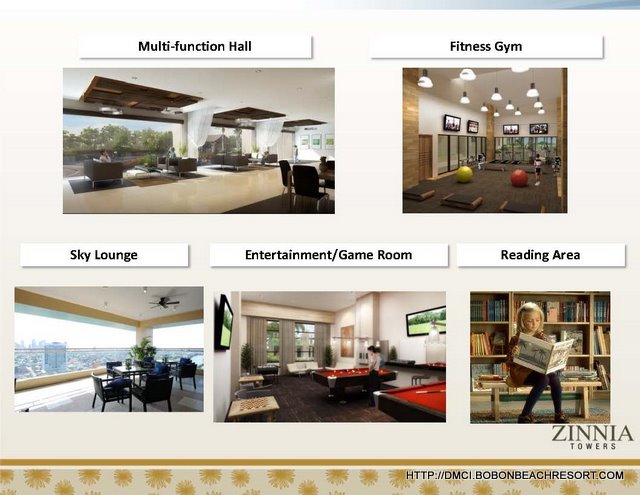 Multi-Function Hall, Fitness Gym, Sky Lounge, Entertainment/Game Room and Reading Area
OTHER BUILDING FACILITIES
Convenience store, Laundry station and Water station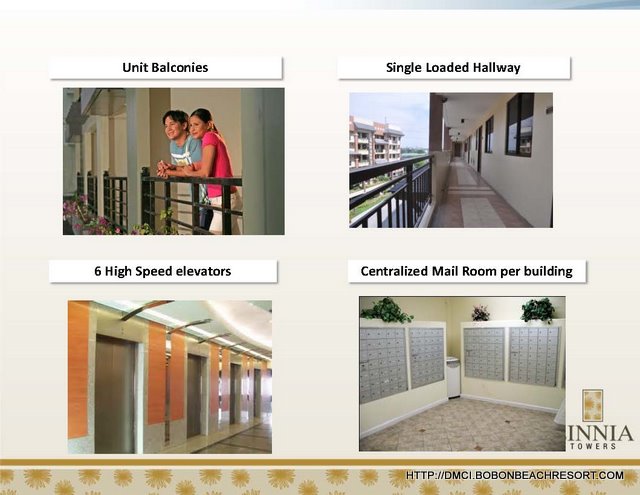 Unit Balconies, Single loaded Hallway, 6 High speed elevators and centralized Mail Room
24 hour security with roving personnel, Guarded entrance gate, General maintenance
Taxi call-in service, Utilities application and payment assistance
 
Construction Updates
October 27, 2016
 
Reservation and Requirements
To reserve a unit in Zinnia Towers, you would only need the following:
Client Registration Form
Reservation Agreement Form
Copy of any Valid ID
Reservation Fee Php 20,000 for a unit and/or Php 10,000 for parking
After reservation, other requirements we would need are the following:
Valid IDs with clear photo and signature
Proof of Billing Address (This should match your preferred billing address indicated in the Reservation Agreement Form). Â If you don't have your own proof of billing, you can make use of someone else's with authorization form
Signed Computation Sheet
Marriage Certificate
TIN number – if not available, we can get new ones for you
After submission of requirements, your contracts for your Zinnia Towers Unit and/or Parking Slot shall then be drafted which usually takes a week to be released.
For the down payments for Zinnia Towers, we have 3 modes of payments (3 options):
Philippine Post Dated Checks (PDCs) for the down payments – If not available, you can make use of a friend's or relative's checks with authorisation letter
Auto Debit Arrangement (ADA) from accredited banks
Bills Payment Option through accredited Remittance Centers
The remaining balance can either be financed through Bank Financing or In-house Financing. Â Below is the list of accredited banks that you can make use of:
Asia United Bank
Bank of Commerce
BDO
BPI
Chinabank
China Bank Savings
Eastwest Bank
HSBC
Maybank
Metrobank
Planter's Bank
RCBC Savings Bank
Philippine Business Bank
PNB
PSBank
Robinson's Bank
Security Bank
Union Bank
We assist in your application for Bank Financing which is initiated within 6 months from turnover of your unit.
Contact Form Shortcode Error: Form 1 does not exist