MARICIELO VILLAS LAS PINAS by DMCI Homes
Maricielo Villas Midrise Condominium Development
ALL BUILDINGS READY FOR OCCUPANCY
 
Project Overview
•  Location: Corner of Quirino Ave. and Casimiro Ave., Las Pinas City
•  Land Area: 1.8 Has
•  Project Type: Medium Rise Development Condominiums
•  Product Type:
–  1 Medium Rise with 4 Residential floors with Lower Ground
Parking
–  4 Medium Rise with 5 Residential floors with Lower Ground
Parking
•  Unit Types: 2br and 3br units
•  Total Units: 516 units
•  Total Parking Slots: 324 slots
•  Building Footprint: Approx. 40%
•  Open Spaces:  Approx. 60%

Location

Directions
Nearby Business Districts
Nearby Hospitals
Nearby Schools
Site Development Plan
SEGOVIA Building READY FOR OCCUPANCY
PONTEVEDRA Building READY FOR OCCUPANCY
MADRID Building READY FOR OCCUPANCY
SEBASTIAN Building READY FOR OCCUPANCY
ALMERIA Building READY FOR OCCUPANCY
UNIT TYPES
2 Bedroom with Balcony
2 Bedroom with Balcony
2 Bedroom End Unit
2 Bedroom End Unit P3,437,000.00 (FRONT UNIT)
 2 Bedroom Mid Unit
3 Bedroom Unit
BUILDING FLOOR PLANS
The Maricielo Villas Advantage
Maricielo Villas is not just a place to park your shoes at the end of a long day, it is a home where:
• you spend quality time with your kids and watch them grow up to be healthy individuals,
• you reaffirm your relationship with your spouse and remember the reasons why you decided to build a family and grow old together,
• you can invite your friends over for a night cap, or a full blown party,
• you can wind down and gather your thoughts so you can be ready andeffective for the next day in your trailblazing career.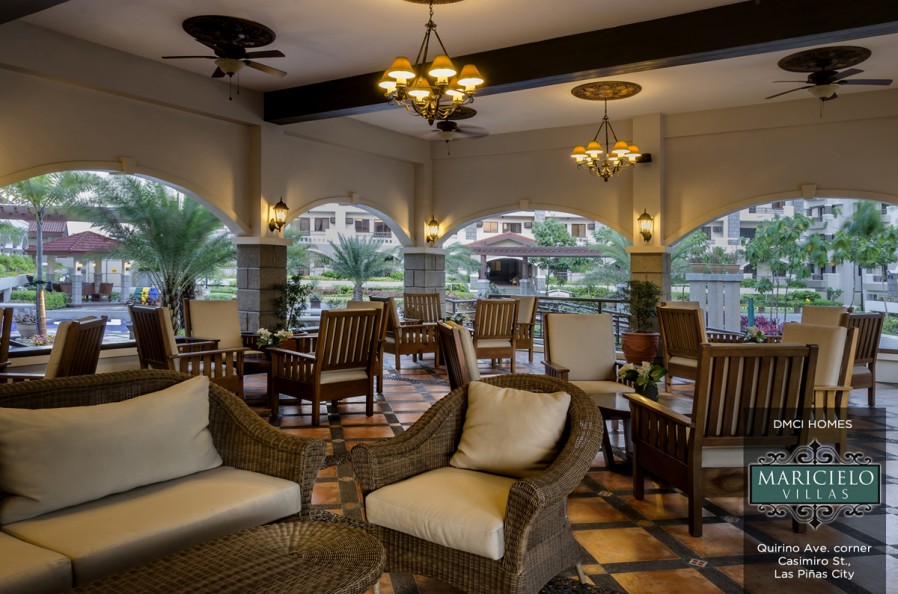 Resort Living: A vacation that lasts a lifetime
Maricielo Villas puts forward an invigorating mix of resort living amenities that you can share with family and friends. It is a home that de-stresses you every single time you walk out the door for a rejuvenating stroll around the amenities complex. For the active family, they can keep up with their health regimen with a revitalizing jog by the park and swim a few laps at the swimming pool. For the laid back family, they can take an early morning or late night walk around the landscaped park and garden trail or soak up the sun while lounging at the pool decks. Life in Maricielo Villas is a vacation that lasts a lifetime.

Resort-Style Building Features
Being another innovative DMCI Homes project, Maricielo Villas has
the unique DMCI Homes Resort Living Signature Features:
1. Â Breezeway: to enhance the flow of natural ventilation and lighting. This feature encourages air circulation and natural lighting which also allows you to save on energy consumption.
2. Â Garden Atrium: These areas are lush verdant vegetation that improves not only aesthetics of your home but also maintain fresh air.
 
3.  Single Loaded Corridors: the piece de resistance of DMCI Homes Resort Living Signature features. These corridors open up to a balcony overlooking the landscaped atrium. This feature is a far cry from  the usual residential building feature where your unit opens up to face another unit's door. With this feature, you will no longer have that usual cooped up feeling.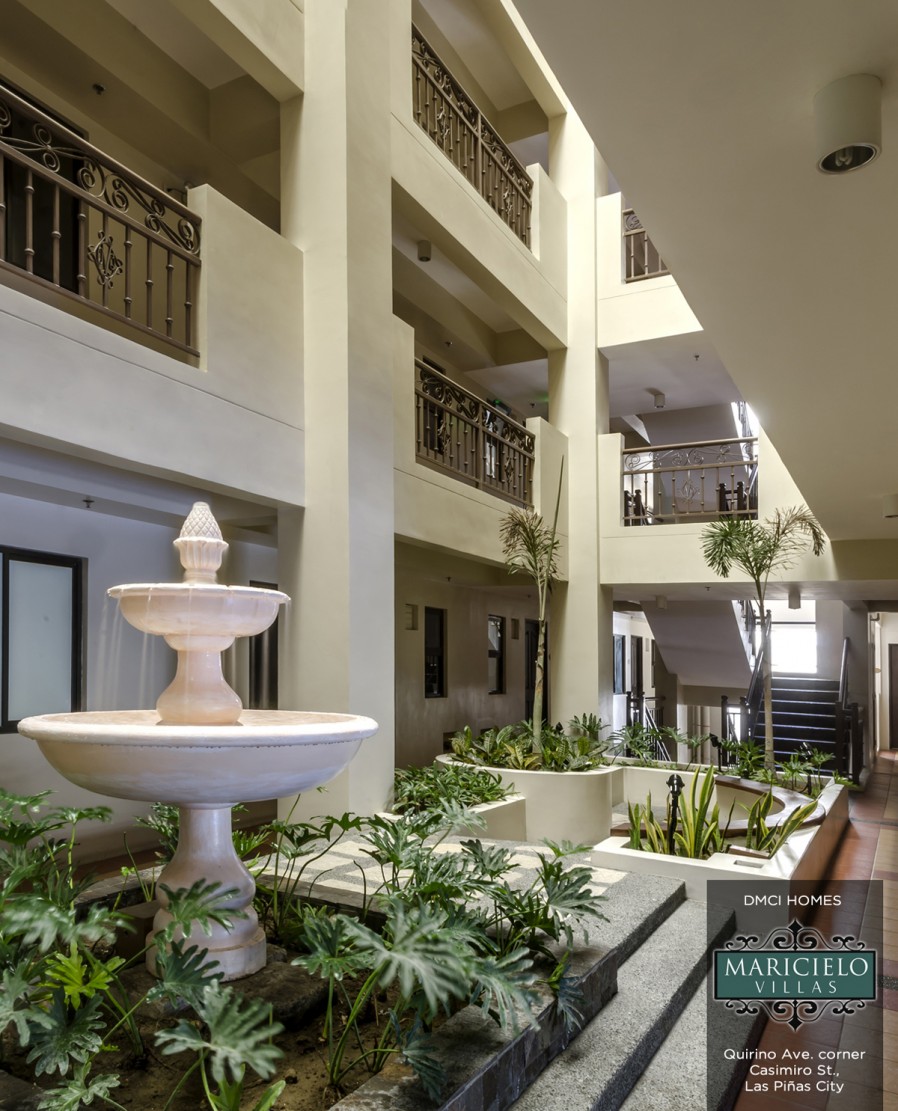 Secure Environment: Unwind with peace of mind
Maricielo Villas puts forward a safe and secure haven for you and your family, with the following security measures in place:
• electrified perimeter fences
• 24-hour security service
• CCTV cameras in strategic areas
• roving security personnel
• security room located at the lower ground floor of the buildings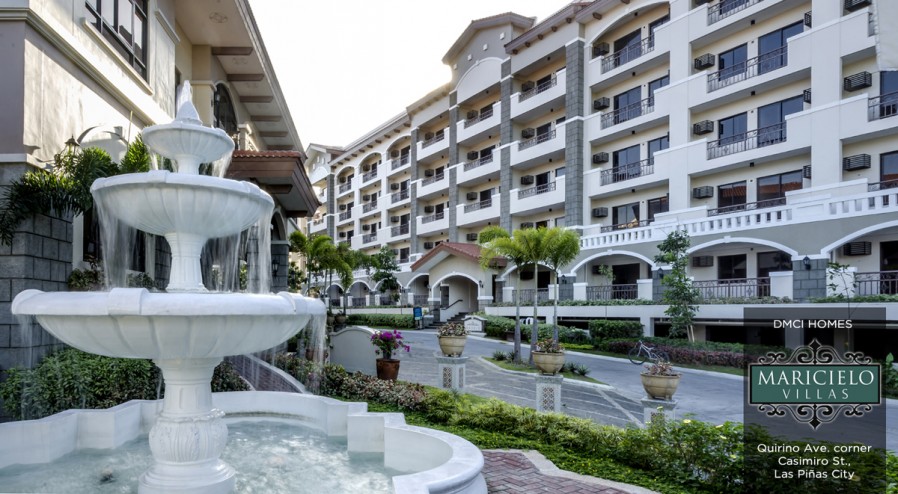 Distinct Architecture: a Spanish Heritage
The Spanish Mission Architecture blends in seamlessly with the Las Pinas City government requirement to restore the historical area and to help in promoting the officially declared  National Cultural Treasure: Parish Church of St. Joseph's Bamboo Organ, by blending in the area. Maricielo Villas' distinct Spanish Mission Architecture is reminiscent of summer vacations spent soaking up the sun and lazy afternoons spent catching up with friends over lemonades. Maricielo Villas is composed of 5 mid-rise buildings. Each building consists of 4-5 residential floors with lower ground floor parking level with scenic elevator. Spanish Mission inspired architecture details are carefully planned to ensure that spaces are efficient and functional. Living in Maricielo Villas is like being part of a history that unfolds daily.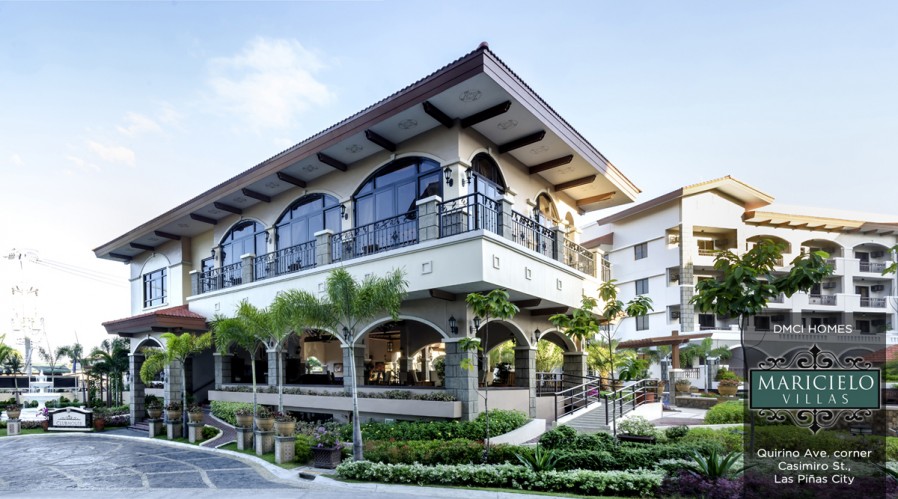 Accessible Location : Hassle-Free Commutes
Maricielo Villas is located at the corner of Quirino Ave., and Casimiro Ave., Las Pinas. It is approximately 300 meters near the Alabang Zapote Road, and 1km near the C5 Extension Road. Maricielo Villas has 4 major access routes: Quirino Avenue, Alabang Zapote Road, Manila-Cavite Coastal Road, and C5 Extension are the major thoroughfares that lead you so you can be at work with minutes to spare to get your cup of coffee or catch up with your colleagues. Maricielo Villas gets you as far away from the hustle and bustle of urban living so the stresses of the commute and the long drives melt away as you come home, yet still be accessible to the conveniences of city living. Your  home is a springboard where you can be in your destination with minutes to spare.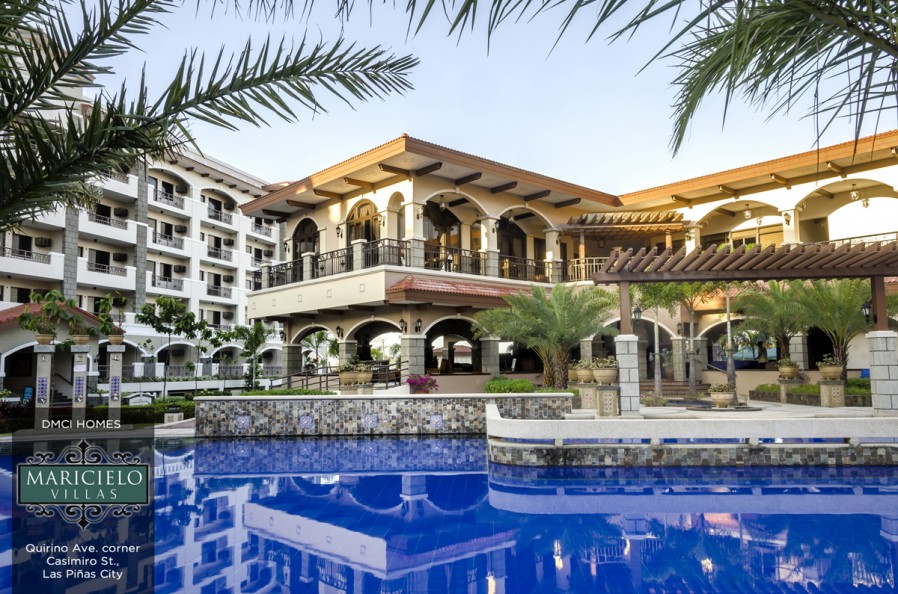 Your home works for you.
Maricielo Villas will do the work for you while you concentrate on reaffirming relationships, making memories and living life with fully-functional indoor amenities:
1. Â Entertainment/Game Room
2. Â Lounge Areas
3. Â Convenience Store
4. Â Water Station
5. Â Laundry Pick-up Station
6. Â Multi-Function Hall
Maricielo Villas ensures a hassle-free resort living with laundry service area,  way finding signage, an automatic fire prevention system, garbage holding area, and the reliable service of our Property Management office In Maricielo Villas, your home works for you.
 
A proud project of DMCI Homes
DMCI Homes is the  country's premiere triple A builder and developer that provides upwardly mobile young families with high quality, safe homes in fully serviced communities near the urban areas. With more than 50 years heritage of building some of the country's most recognized landmarks, DMCI offers the same expertise and world-class standards in every DMCI Homes Project. Our passion to build projects with only the highest quality is relentless. With more than half a century of experience in building, DMCI Homes has the unique distinction of providing first rate construction techniques that allow our company to build better homes faster.
Contact Form Shortcode Error: Form 1 does not exist