ALEA RESIDENCES BACOOR CAVITE
Alea Residences is the first medium rise condominium development in Bacoor, Cavite developed by DMCI Homes. DMCI Homes is a developer with proven track record in on-time delivery, quality and design.
Alea Residences features a Neo-Asian Balinese architecture with an invigorating  mix of resort inspired amenities.
PROJECT OVERVIEW
SIZE OF DEVELOPMENT
15,475 SQ.M (1.55 HAS)
PROJECT TYPE

4 Medium-Rise Residential Development
6-7 Storey Condo Buildings with Basement Parking
A – Darma ( 11 Bays: 1 Amenity Level +6 Storeys + 1 LGF Parking),
B – Surya ( 9 Bays: 7 Storeys + 1 LGF Parking),
C- Raja (11 Bays: 7 Storeys + 1 LGF Parking),
D- Budi (11 Bays: 7 Storeys + 1 LGF Parking)

LOCATION
Las Piñas-Talaba Diversion Road, Brgy. Zapote 3, Bacoor, Cavite
NO. UNITS/UNIT MIX
563 / 2BR & 3BR
PARKING SPACES
243 SLOTS / 43%
UNIT & GROSS FLOOR AREA (sq. m)
49.5-70.0 (UFA)
62 -93 (GFA)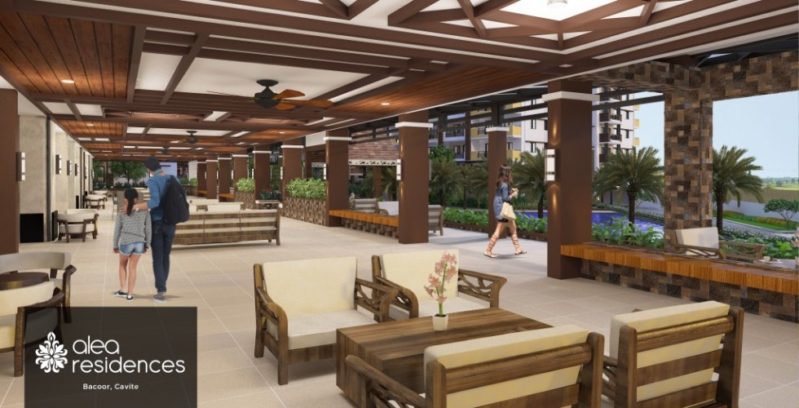 LOCATION
Alea Residences is located quietly in Las Piñas – Talaba diversion road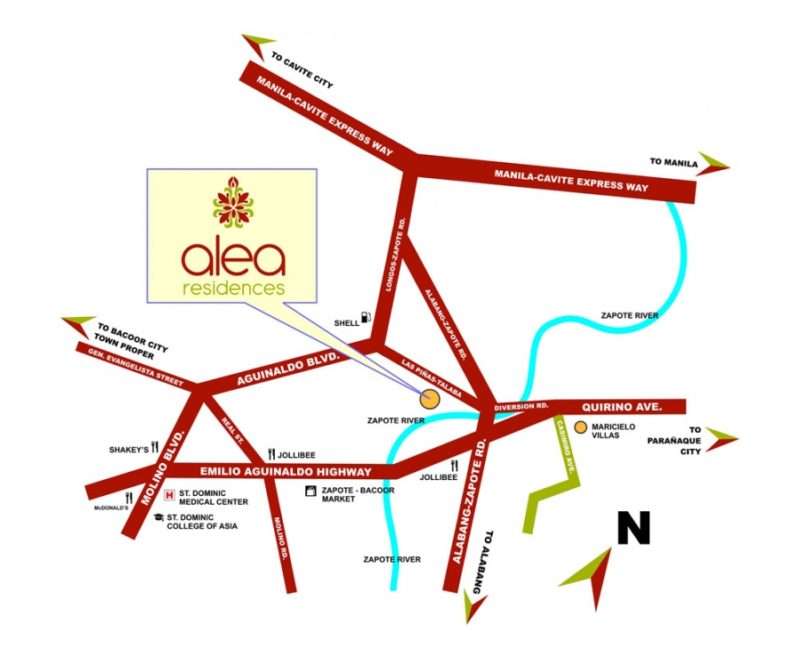 Alea Residences is situated near three major roads that makes it very accessible in all locations in and out of the National Capital Region: Manila-Cavite expressway in the north, Alabang – Zapote road in the east, Emilio Aguinaldo highway in the west
Public transportation is present in the area of Alea Residences, such as bus and jeepneys
Accessibility to and from different places of interest from Alea Residences is easy
Alea Residences is only 700 m  from Cavitex
HOW TO GET TO ALEA RESIDENCES
VIA EDSA / CAVITEX
Take EDSA heading Southbound
Turn left to Roxas Boulevard and head towards Cavitex**
Exit Cavitex towards Bacoor-Las Piñas area
Turn left to Longos road; Stay on right lane as you approach Alabang-Zapote flyover
Make a u-turn to Las Pinas-Talaba Diversion Road
The property is on the left side
**You may also reach Cavitex via Diosdado Macapagal Boulevard
VIA SLEX-SUCAT
Take SLEX heading southbound and exit via Sucat towards Dr. A. Santos Ave.
Drive straight ahead until you reach u-turn slot (after SM Sucat) to merge to C5 extension
Turn right to C5 extension
Turn left to Diego Cera Ave. (formerly Quirino Ave.)
Turn right to Alabang-Zapote Road then make a u-turn at u-turn slot
Turn right to Las-Piñas-Talaba Diversion Road
The property is on the left side
 
Nearby Establishments
SCHOOLS
| | | |
| --- | --- | --- |
| St. Dominic Academy College of Asia | 1.0 KM | 5 MINS |
| St. Joseph's Academy | 2.4 KM | 6 MINS |
| Divine Light Academy | 1.9 KM | 5 MINS |
| University of Perpetual Help System | 3.1 KM | 7 MINS |
| Southville International School | 5.7 KM | Â 17 MINS |
COMMERCIAL
| | | |
| --- | --- | --- |
| SM City Bacoor (Aguinaldo Hi-way) | 3.5 KM | 12 MINS |
| Star Mall Las Pinas (Alabang Zapote Road) | 2.8 KM | 8 MINS |
| Puregold Bacoor | 2.7 KM | 15 MINS |
| SM Center (Alabang-Zapote Road) | 3.2 KM | Â 20 MINS |
HOSPITALS
| | | |
| --- | --- | --- |
| St. Dominic Hospital | 1.0 KM | 5 MINS |
| University of Perpetual Help System | 3.1 KM | 7 MINS |
| Las Piñas Doctors Hospital | 5.6 KM | 11 MINS |
| Alabang Medical Center | 8.1 KM | Â 17 MINS |
OTHER POPULAR DESTINATIONS
| | | |
| --- | --- | --- |
| Airport Terminals | 9.2-11.3 KM | 19-25 MINS |
| Aseana City (via Cavitex) | 8.9 KM | 16 MINS |
| Makati CBD (via Cavitex) | 14.8 KM | 30 MINS |
| St. Joseph Parish – Bamboo Organ | 2.8 KM |  11 MINS |
Seasons Mall will soon rise in Molino Blvd. and will introduce a new leisure park in the area, Flow House Manila (8.4 Km. away)
The sub-urban outdoor mall has 25,778 sq. m floor area to lease it out to both locals and international concept shops.
The mall will attract sports entusiast from all over the region and nearby cities because of the first indoor surfing place in the country
Value Proposition Value Proposition
Alea Residences is the first medium rise condominium development in Bacoor, Cavite developed by DMCI Homes, a developer with proven track record in on-time delivery, quality, & design.
Alea Residences features a Neo-Asian Balinese architecture with an invigorating mix of resort inspired amenities and upgraded community facilities.
Alea Residences is perfect for upwardly mobile young families and accomplished professionals looking for an exclusive, secure, and comfortable living environment that is strategically located to different places of interests.
SUBURBAN CHARM MEETS RESORT-STYLE LIVING
Your comfort and relaxation extends beyond the floor area of your unit.
With a bigger amenity area allocation, future residents are assured of a home where family and community relationships will be fostered.
THE SIGNATURE FEATURES OF ALEA RESIDENCES
Breezeway: to enhance the flow of natural ventilation and lighting. This feature encourages air circulation and natural lighting which also allows you to save on energy consumption.
Garden Atrium: These areas are lush verdant vegetation that improves not only aesthetics of your home but also maintain fresh air.
Single Loaded Corridors: the piece de resistance of DMCI Homes Resort Living Signature features. These corridors open up to a balcony overlooking the landscaped atrium. This feature is a far cry from the usual residential building feature where your unit opens up to face another unit's door. With this feature, you will no longer have that usual cooped up feeling.
URBAN REVERIE
Neighbouring the warm and friendly communities of the south, Alea Residences is strategically located within the Southern delta- providing convenient access to major roads such as Cavitex, Alabang-Zapote Road and easy access to urban centers of the metro.
MAXIMIZED LIVING AREAS
Each unit is designed to perfectly maximize the livable floor area of every section of your home, ensuring that there will always be room for all your family's needs.
COMFORT & SECURITY OF CONDO LIVING
Be greeted by the serenity of exclusive condominium living. With 24/7 security, be assured of restful and serene nights.
WE DELIVERÂ SPEED. SKILL. RELIABILITY. QUALITY.
DMCI Homes: A consistent trusted brand of Quality
With various accolades from different international and national organizations, DMCI Homes is a consistent, trusted brand and one of the top choices in the real estate industry. Committed to provide superior quality on its works, DMCI Homes brings its expertise to Alea Residences
All of its projects undergo thorough checking, from drawings to construction up to turnover of each unit. DMCI Homes formed an independent department that focuses specially on the quality of the communities we build to ensure customer satisfaction.
Primary Target Market Primary Target Market
End-users Upgraders from Las Pinas and Cavite Area
EARLY NESTERS: Start-up young families or married couples between 30 to 45 years of age with 1-2 kids, from toddler to elementary level, occupying from middle to top management positions in reputable companies.
UPGRADERS They may already have a primary house (or renting), located within the vicinity. Seeking for harmony and work-life balance. Monthly Household income: 120K and up Driven to succeed and attracted to a life of comfort, and to some extent, even prestige.
Secondary Target Market Secondary Target Market
Overseas Filipino Workers (OFWs) looking of a spacious and secured living environment for them and their families
Investors who are acquiring properties to rent it out or with the intent of selling and receive a profit from the sale
Status seekers & competent individuals
Established, successful, and logical individuals who are highly focused on attaining affluence and recognition through hard work
Prefer reputable, trusted, and highly recommended developers who will give them value for their money
Architectural Concept Architectural Concept
Balinese Architecture is one of the most popular Asian tropical Architecture styles, with a distinct flair for being harmonious with nature.
The ALEA Residences is a product of first hand pleasure of resort-like hospitality in the urban landscape. The whole architecture is a symphony of carefully orchestrated flavours of Asian tradition, nature inspired amenities and tropical design.
The use of large, pitched roof overhangs typically made out of thatch or shingled roof.
Materials commonly used in Balinese homes or structures includes wood and natural stone, plastered walls painted in earthy colours and characteristic wood floor finishes.
Designed more to complement the architecture to which structure they are attached to, can withstand hot climate, and mimics natural tropical landscape.
SITE DEVELOPMENT PLAN
DARMA – May 2019
SURYA – July 2019
RAJA – Sept 2019
BUDI – Feb 2020
FLOOR PLANS
Surya Buidling
Darma Building
UNIT TYPES
2 Bedroom Inner Unit 65 sqm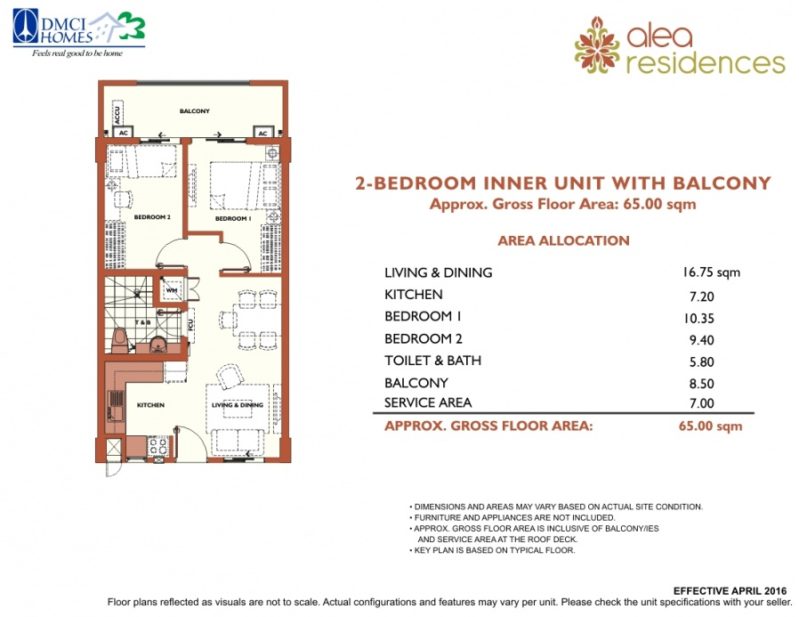 3 Bedroom A End Unit 86.5 sqm
3 Bedroom B End Unit 92.5 sqm
Turnover Finishes
Amenities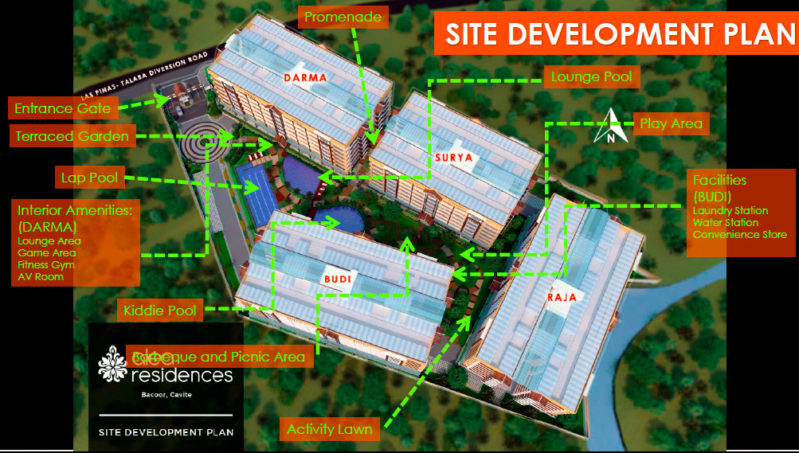 | | |
| --- | --- |
| Indoor Amenities | Outdoor Amenities |
| Lounge Area | Lap Pool |
| Fitness Gym | Lounge Pool |
| Audio Visual Room | Kiddie Pool |
| | Picnic and Barbecue Area |
| | Play Area |
| | Activity Lawn |
Commercial Areas (c/o Developer)
Convenience Store
Water Station
Laundry Station
Play Area
Guard House
Lounge Pool
Lap Pool
Kiddie Pool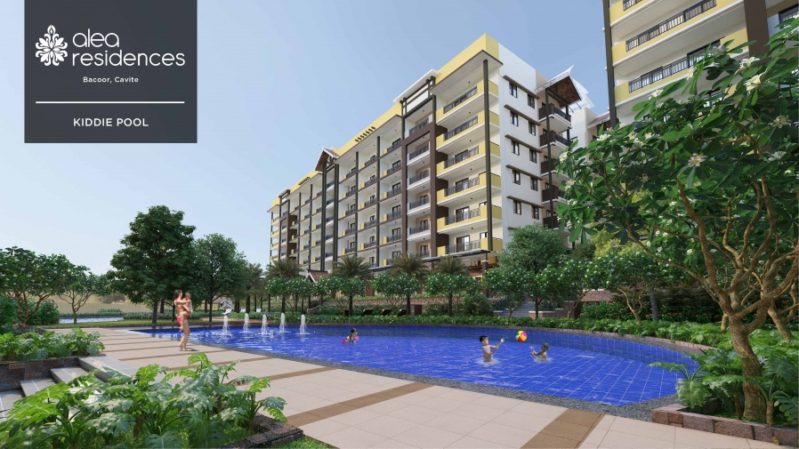 Reservation and Requirements
To reserve a unit in Alea Residences, you would only need the following:
Client Registration Form
Reservation Agreement Form
Copy of any Valid ID
Reservation Fee Php 20,000 for a unit and/or Php 10,000 for parking
After reservation, other requirements we would need are the following:
Valid IDs with clear photo and signature
Proof of Billing Address (This should match your preferred billing address indicated in the Reservation Agreement Form). Â If you don't have your own proof of billing, you can make use of someone else's with authorization form
Signed Computation Sheet
Marriage Certificate
TIN number – if not available, we can get new ones for you
After submission of requirements, your contracts for your Alea Residences Unit and/or Parking Slot shall then be drafted which usually takes a week to be released.
For the down payments for Alea Residences, we have 3 modes of payments (3 options):
Philippine Post Dated Checks (PDCs) for the down payments – If not available, you can make use of a friend's or relative's checks with authorisation letter
Auto Debit Arrangement (ADA) from accredited banks
Bills Payment Option through accredited Remittance Centers
The remaining balance can either be financed through Bank Financing or In-house Financing. Â Below is the list of accredited banks that you can make use of:
Asia United Bank
Bank of Commerce
BDO
BPI
Chinabank
China Bank Savings
Eastwest Bank
HSBC
Maybank
Metrobank
Planter's Bank
RCBC Savings Bank
Philippine Business Bank
PNB
PSBank
Robinson's Bank
Security Bank
Union Bank
We assist in your application for Bank Financing which is initiated within 6 months from turnover of your unit.
Contact Form Shortcode Error: Form 1 does not exist