Lumiere Residences Pasig
Lumiere Residences located along Pasig Boulevard consists of 3 high rise towers.
East Tower Turnover – OCT 2017
West Tower Turnover – JUN 2018
North Tower Turnover – NOV 2020
Project Overview
Size of Development
1.2 Hectares.
Project Type
High-rise Residential Development
Location
Pasig Blvd., cor. Shaw Blvd., Pasig City
Unit Mix
1-BR, 2-BR, 3-BR
Number of Buildings
3 (East, West and North)
Number of Floors
East – 36

West – 37

North 42 Residential

6 Basement parking
Sitback, Relax and Enjoy
Enjoy the goodness of morning as the sun rises from the silhouettes of Antipolo hills greeting you with its rays.  Move on the other window and you'll see the invigorating amenities area inviting you to take a breath and start the day right.  Who would have thought you have them just outside your home?
Safety and Structural Integrity
A  testament  of  quality  in  building,  DMCI  Homes partners  with one of  the country's  well-known structural  engineering  consulting  firms, Macro.  Macro Consulting  Structural Engineers  provides services to its local and international clients to assure structural stability of their developments.  Just like other DMCI projects that defined the DMCI brand, Lumiere Residences is designed to last the test of time.
Location
Strategic Position
Are you going to the north or to the south of the metro?  Wherever your destination is should not be a  problem if you're living in Lumiere Residences. A few drive to the west is EDSA and a few drive to the east is C5. Important and   interesting places are within your reach and you're just at the center of all.

How to get there:
VIA EDSA (from Quezon City)
Make a left turn at Ortigas flyover, proceed to Meralco Ave. and turn left to Capt. Henry Javier. Drive straight to reach Pasig Blvd.
VIA C5 (from Makati/BGC)
Take C5 northbound route and make a U-turn upon reaching Bagong Ilog flyover. Turn right to Pasig Blvd.
DISTANCE TO KEY AREAS
Commercial Establishments
Forum Robinsons – 2.56 Km
Market! Market! -Â  3.02 Km
SM Supercenter Pasig – 3.67 Km
Tiendesitas – 4.09 Km
Shangri-la mall – 1.91 Km
SM Megamall – 2.23 Km
Eastwood – 5.7 Km
Metrowalk – 2.3 Km
MC Home Depot – 2.5 Km
Madison Square – 2.0 Km
Pioneer Center – 1.41 Km
Puregold Pioneer – 1.2 Km
Ynares Stadium – 0.65 Km
Philippine Sports Arena (Ultra) – 1.0 Km
Frontera Verde – 3.4 Km
Silver City – 3.5 Km
Capitol Commons – 0.75 Km
Business Centers
Ortigas Center – 2.0Â  Km
Bonifacio Global City – 3.5Â  Km
Makati CBD – 7.0Â  Km
Libis  5.7 – Km
Schools
St. Paul College – 1.58 Km
University of Asia & the Pacific – 1.67 Km
Lourdes School – 1.8 Km
Pamantasan ng Lungsod ng Pasig – 2.16 Km
Pasig Catholic College – 2.46 Km
Domuschola International School – 1.33 Km
Hospitals
Rizal Medical Center – 0.59 Km
Pasig City General Hospital – 5.05 Km
The Medical City – 2.87 Km
St. Therese Hospital – 4.28 Km
Site Development Plan
Design Innovation
Aside from the picturesque views surrounding you, you will surely love the natural light and air permeating inside the buildings. With DMCI Homes' signature design innovation of Lumiventt technology, no need to spend much in electricity bills to keep you feel light and cool.  Not to mention the extended patios present in Lumiere Residences, only relaxation and serenity can be experienced even you're inside the buildings.
Light and Easy
Using clean and modern lines, light colors and  natural tone accents,  Lumiere Residences  will  surely  change  the  way you see Pasig City.  Apart  from the sturdy  buildings to  rise in the area, lush landscapes will  be infused to keep you feel at ease all the time.
2 BR A&B Atrium/PH Units To be sold together with a Basement Level 1 parking slot
For East Tower ONLY:
All Units Facing Antipolo View (except 2BR A&B units at Atrium/PH) To be sold together with any parking slot
Building Layouts
East Tower Floor Plans
West Tower Floor Plans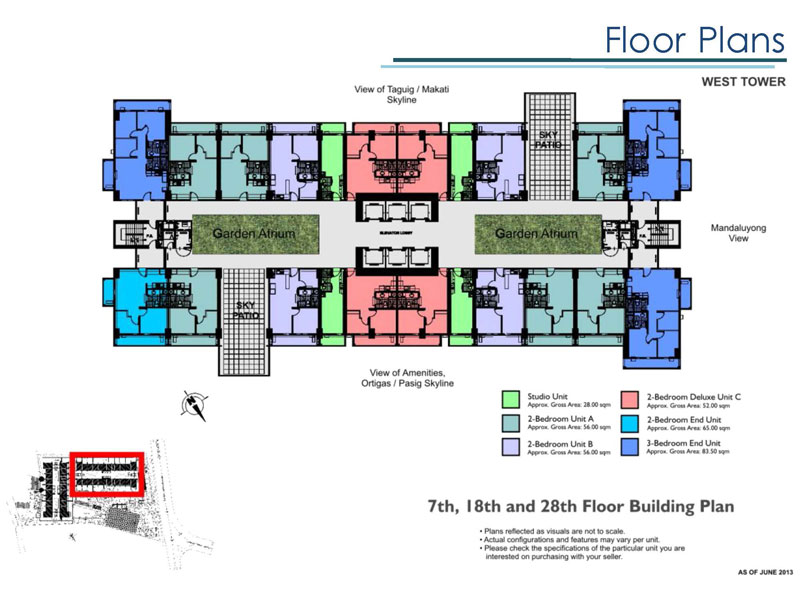 Unit Types
East Tower 1BR Small
West Tower 1BR Small
East Tower 2 Bedroom A, B or C
West Tower 2 Bedroom A, B or C
East Tower 2 Bedroom Deluxe
West Tower 2 Bedroom Deluxe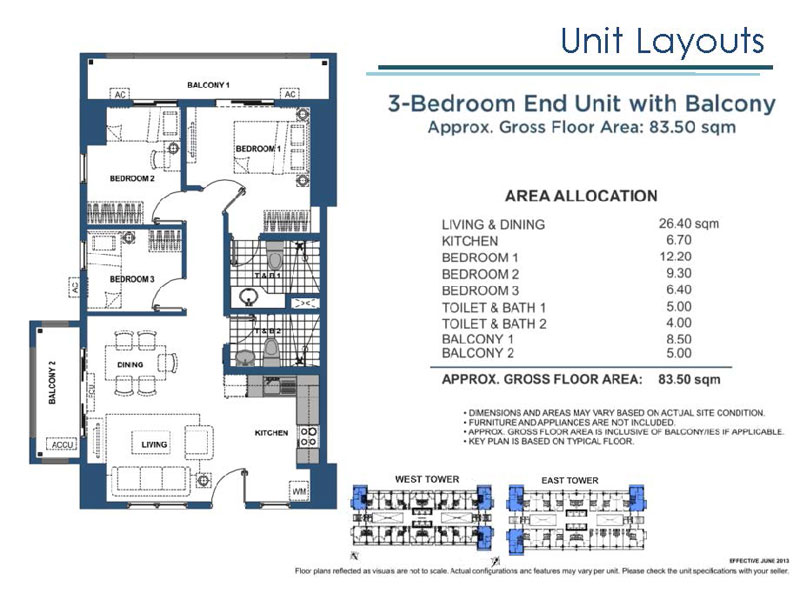 East Tower 3 Bedroom
West Tower 3 Bedroom
Amenities, Facilities and Features
Outdoor Amenities
Pool Deck
Gazebo / Cabana
Children's Playground
Basketball Court / Playcourt
View Deck
Palm Promenade
Sky Park / Roof Deck
Shower Area
Kiddie Pool
Lap Pool
Indoor Amenities
Open Lounge
Children's Recreation Space / Daycare
Function Hall
Study Room
Sky Lounge
Game Area
Entertainment Room
Fitness Gym
Landscaped Atriums
Lumiventt Technology
Facilities
Main Entrance Gate
Perimeter Fence
Water Station
CCTV Cameras
24-hour Security
Building Façade at Night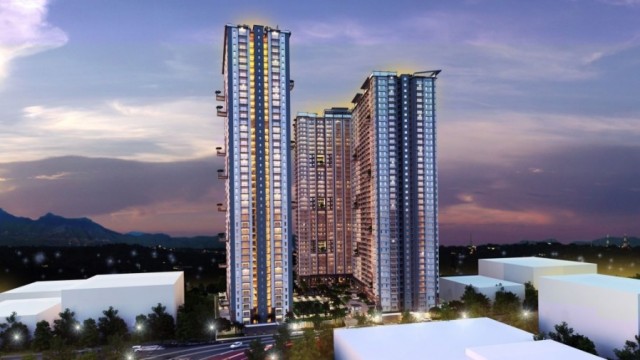 Main Gate & Guardhouse
Lap Pool & Deck
Kiddie Pool
Children's Playcourt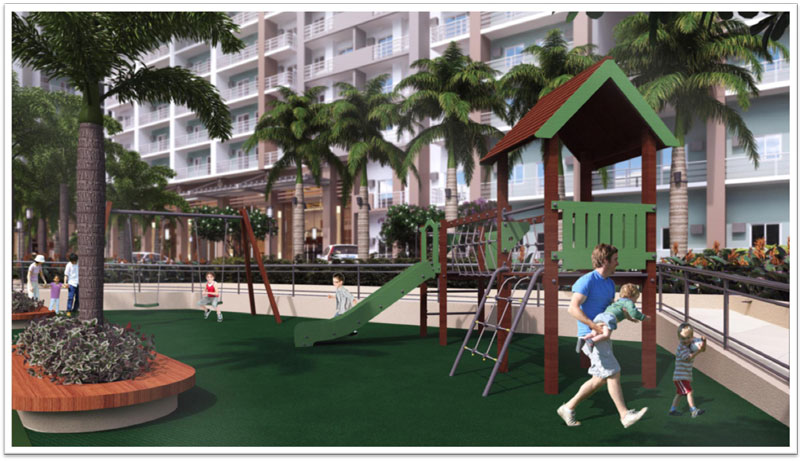 Palm Promenade
Multi Purpose Area
Garden Atrium
Sky Patio
Unit Turnover Finishes
Contact Form Shortcode Error: Form 1 does not exist